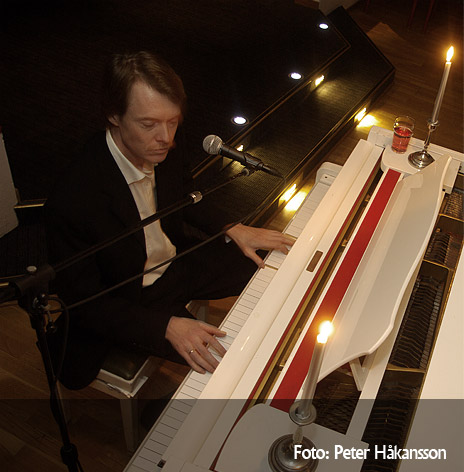 Welcome to AJ Krogmusik
How about a piano entertainer for your party?
You have just arrived at AJ Krogmusik´s site, wich offer you high-quality piano mood music for any possible occasion! A piano entertainer enhance the pleasant and cosy atmosphere at dinners, parties and many other events. The experience of live piano entertainment embellish the party and get you and your guests into the right mood for mingling and celebration.
A singing piano player in a pianobar or a café is also the perfect meeting-point during a conference. It creates a room for relaxing and associating – a place with that very special feeling of pleasant elegance of a cocktail lounge or a hotel bar, wich only background piano music can give!
The name of this one-man-company is AJ Krogmusik. Translated into english it could as well have been "AJ Mood Music", because my music is mostly for amusement and entertainment, rather than being a regular show or consert. I´m a piano entertainer, and I play and sing with a broad repertory of well-known tunes, evergreens, folk songs, covers, current hits and rock´n´roll classics. I´m always ready for requests from the guests around the piano, and later on in the evening the time may be right for some sing along-tunes!
AJ Krogmusik doesn´t only supply the need for good piano and party entertainment, I´m also working as a cultural/historic advisor for projects within the branches of event, hotels and museums. This means for instance that I´m delivering cultural-historic documentation about historical sites and buildings. This material can thereby e g support the production of tourist information-booklets and guidetours.
Anders Jansson,
AJ Krogmusik
Contact AJ Krogmusik:
Give me a call +46(0)31146021 or 073 – 659 5951 (Sweden)
Send an email to: info@ajkrogmusik.com
Vistiting Adress:
AJ Krogmusik
Kungsladugårdsgatan 16A
S-414 69 Gothenburg
Sweden